Comparison of Faraday Porteur with Ariel Rider C-Class City E-bike
In this part, we will compare famous Kickstarter e-bike Faraday Porteur with Ariel Rider C-Class. Both bikes are designed as "City Bikes" .
The biggest difference between two bikes is frame sizes. Ariel Rider can seem to have a bigger frame but when the optional front and rear racks are attached to Faraday Porteur we will reach to a similar frame size.
Another difference is motor location. Front motor is used in Faraday to give a better weight balancing and this enables them to use the inner hub. On the other hand, Ariel Rider is using a more powerful rear hub motor which is important while climbing uphill or for overweight riders who don't want to sacrifice power. Also front motors while creating better weight distribution they come with a disadvantage too which is safety. You can  check this article about risks of using front hub motor here.
Without going into Further details let's compare two models here.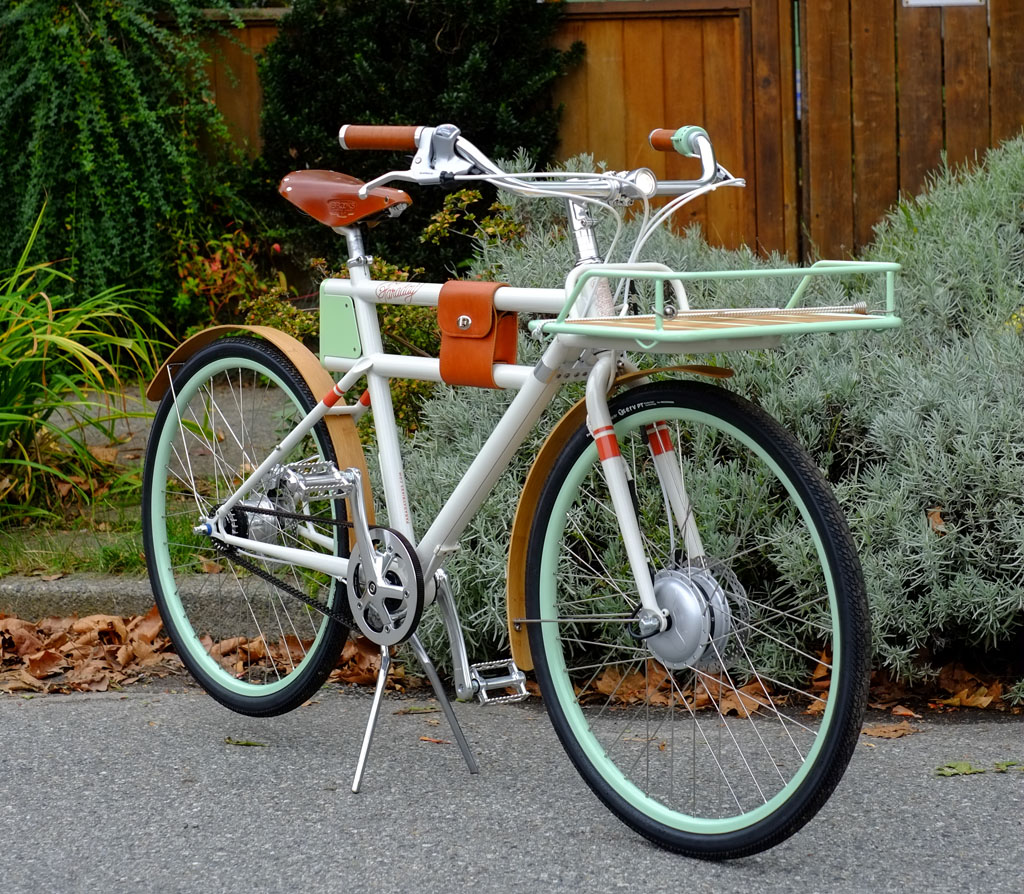 | | | |
| --- | --- | --- |
| | Faraday Porteur | Ariel Rider C-Class |
| Price | $ 3,500 | $ 1,899 |
| Frame | Steal | Aluminum 6061 |
| Saddle | Narrow Standard | Wide Plush with memory foam. |
| Battery | 43V 5.8 Ah | 36V 11 Ah |
| Battery Cell | Panasonic | Samsung |
| Removable Battery | No | Yes |
| Range | 20 miles | 50 miles |
| Motor | 250 W Front Motor | 350 W Rear Hub |
| Motor Torque | 30 nM | 36 nM |
| Torque Sensor | Yes (bottom bracket) | Yes (bottom bracket) |
| Gear | Shimano 5 Speed | Shimano 7 Speed |
| Speed | Up To 20 mph using battery power only | Upto 28 mph (very legally allowed) |
| Brake | Avid BB7 | Avid BB7 |
| Rear Rack | – | Integrated |
| Rear Rack Loading Capacity | 0 lbs | 300 lbs |
| Front Rack | Steel Optional (cost $225 extra) | Bamboo with Cup Holder standard (don't cost extra) |
| Seatpost | Suspension Seatpost | Foldable Seatpost |
| Display | Don't have (3 buttons for speed leve) | LCD (With diagnostic system) |
| Pedal Assist | 3 levels Pedal Assist | 6 Level of Pedal Assist |
| Lights | Front And Rear Light | Front Light and Rear Light |
| Bike Warranty | 1 year | 1 year |
| Battery Warranty | 2 year | 3 year limited |
| Frame Warranty | 2 year | 25 years |
| Mudguards | Bamboo Mudguard (Optional) | Standard |
Here are two of the most popular Electric City bikes available.
Let's check the comparison of them.
Price: It is a big factor. Faraday Porteur cost $3,500 without accessories such as front and rear rack. When added the total price reaches $3,500 + $ 350 = $3,850 which is almost double the price of Ariel Rider E-bike.
Loading Capacity :

Ariel Rider : 135 kg rear rack + 15 kg front rack. = Totaly 150 kg
Faraday Porteur : 20 kg rear rack + 20 kg front rack = Total 40 kg
Ariel Rider with a big gap is the clear winner. C-class is designed to fulfill the certain task for people and being able to carry heavy stuff is one of it. To achieve it rear rack designed to be an integral part of the frame.
Innovative Front Rack :
Front Rack of Ariel Rider e-bike let you carry many things due to innovative design.
Higher Battery Capacity
Which means more than double the range you will get with an Ariel Rider e-bike
Motor :
Ariel Rider uses Rear Hub Motor. Please check dangers of using front hub motor here. The front fork dropouts aren't designed for handling high stress. But once you put the motor in front, the fork need to handle lot of stress. The problem with alloy forks especially is, alloy won't bend under stress but break . This can cause fatal damages.
There is an interesting article about it here
The Japanese Hub motor that we use clearly creates a higher torque. This will let you carry more stuff and climb hills easily.
Display
Ariel Rider has the display which will let you have more Pedal Assist Levels to find the best level for you (more levels mean, you can find a more suitable level).
The display shows speed, battery level also have diagnostic functions. Diagnostic functions let you know what the problem is about the bike which can be very important when you are traveling far from where you live with your e-bike.
It is fair to conclude Ariel Rider is offering best value for your bucks with an innovative and appealing design. Also it will serve better for your daily usage.